Restaurants & Bars
ClubHotel Riu Negril, Jamaica - All Inclusive 24 hours
Dining at the Riu Negril is the icing that completes a rather delicious Jamaican cake; the Riu Negril All Inclusive Resort hasn't forsaken the quality of their cuisine in favor of providing its guests with better entertainment or hotel room services. To be true, this All Inclusive Hotel in Negril considers delivering quality fine dining to its patrons as a crucial step to attaining true hotel service superiority. Nothing short of culinary perfection is required—to be the best, this All Inclusive Hotel in Negril must embody magnificence in all fronts, which includes fine dining.
On that note, the majority of the meals and beverages (including all gratuities) found in the following All Inclusive Riu Negril bars, snack spots, and restaurants have been fine-tuned and crafted specifically to offer patrons universal delectableness that defies the cultural divide. The Riu Negril All Inclusive Resort's food options will please most, if not all, vacationers and tourists the world over.
Negril: Named after the Riu Negril, the Negril is the foremost eatery of its parent resort. Its terrace-style dining really sets the mood, while its nonsmoking areas for nonsmokers and families alike firmly establish it as a restaurant for all ages. Explore new taste sensations with this diner's twice-weekly theme dinners, scrumptious buffets, and show-cooking stations.
Sir Andrew: The Sir Andrew air-conditioned eatery requires both a dress code composed of sleeved shirts and long pants for men (sandals not allowed) and a dinner reservation. Its a la carte entrees (such as lamb chops and English-style beef fillet) are well worth the trouble of getting dressed to the nines and garnering a reservation.
Shadows: This eccentrically named open-air restaurant serves the most delectable of lunch buffets this side of the Caribbean and presents its customers with a romantic mezzanine terrace as a backdrop.
Rodizio: This restaurant combines the terrace-style dining of the Shadows restaurant with the elegance of the reservation-only Sir Andrew. It also differentiates itself from all the other eateries by offering the unique taste of Brazilian rodizio-style meats and poultry. Whether you want to sample their salad bar starters or indulge yourself with their turkey breast main courses, this restaurant has it all.
Steak House: This restaurant's specialty should be pretty obvious. Don't let its generic name fool you, though; despite the lack of brand identity, the Riu Negril's Steak House is replete with grilled and barbecued delights such as shrimp skewer and beef tenderloin. Just like the Sir Andrew or Rodizio restaurant, it requires a dress code and a reservation.
Green Island: This well-ventilated, open-air diner usually serves dinner and breakfast buffets. For lovers of scrumptious Italian cuisine, there's also a pasta and pizza window open every dinner.
Luigi: This casual terrace eatery offers Italian pasta, pizza, salad, and dessert delights galore as well as Continental breakfast, late night to early morning snacks, and midday to late afternoon buffets.
Jerk Hut: This Jerk Chicken hut is certainly not the runt of the All Inclusive Riu Negril's restaurant pack, which is evidenced by its robust menu of jerk sausage, pork, and chicken. This beachside spot is open every afternoon for six days every week.
Bars: The Riu Negril All Inclusive Resort's assortment of bars is nothing short of spectacular. Guests have a choice of six bars to choose from, which includes the air-conditioned Pacha disco bar, the hard-to-miss Beach Bar, the swim-up Acuatico Bar, the theatrical Coliseum Bar, the pavilion-style Plaza Bar, and the lounge-situated Welcome Bar.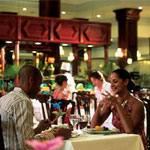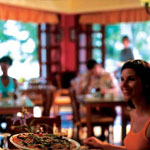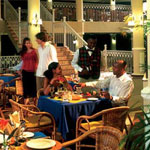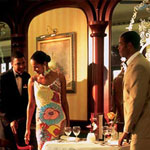 HIGHLIGHTS
All Inclusive 24 hours
Located on the beachfront
80 km / 48 miles from Montego Bay airport
Two swimming pools, one with jacuzzi
Buffet style and themed restaurants
"Renova" Spa with different beauty treatments
SERVICES:
"Green Island" non-smoking restaurant with terrace
"Sir Andrew" gourmet restaurant (non-smoking)
"Luigi" Italian restaurant (non-smoking) with terrace
"Shadows" poolside restaurant /grill and steakhouse with non-smoking section
"Welcome" lobby bar
"Coliseum" lounge bar with terrace
"Plaza" poolside bar
Swim-up bar
Beach bar
Two swimming pools (445 and 377 sq metres), one with jacuzzi
Children's swimming pool (7 sq metres)
Complimentary sun loungers, parasols and towels by the pool
Sun terrace
"RiuLand" kids' club
Children's playground
"Renova" Spa with different beauty treatments, massages, etc. (additional charge)
Complimentary gym, sauna and jacuzzi
Use of the gym, jacuzzi and sauna is restricted to guests over 18 years old. Sports shoes are compulsory when using the gym.
"Pacha" night club
Games room with slot machines
Kiosk/gift shops
Internet-room (additional charge)
Free WiFi in the lobby for 90 consecutive minutes per day
WiFi in rooms at a charge
All Inclusive Details
Breakfast:
Full American breakfast buffet and on the spot cooking stations
Continental breakfast/snack
Lunch:
Hot and cold buffet and on the spot cooking stations
Pizzas, pasta, salads and assorted desserts
Jerk (traditional Jamaican buffet) station (six times a week)
Dinner:
Buffets and on the spot cooking stations
Special evenings: Theme buffet twice a week
Optional dining (reservations required in advance):
"Sir Andrew" gourmet restaurant (à la carte)
"Shadows" grill and steakhouse (à la carte)
"Luigi" Italian restaurant
Snacks 24 hours a day
Beverages:
Unlimited local and imported beverages 24 hours a day
Regularly restocked mini-bar and liquor dispenser
In-room safe
Sports and activities:
Gym, table tennis, volleyball
Sauna, jacuzzi
2 floodlit hard surface tennis courts
Multipurpose sports pitch
Windsurfing, sailing, kayaking, catamaran
Snorkelling equipment, 1 introductory scuba diving lesson in the pool
Entertainment programme:
Daytime entertainment programme for children ages 4 to 7 and ages 8 to 12 at RiuLand (daily)
Daytime entertainment programme for adults (daily)
Shows, Riu evening programme or live music (daily)
Complimentary entrance to "Pacha" night club and drinks (open six nights a week)
All accommodations, taxes and gratuities
All hotel guests are required to wear an "all inclusive" wristband for identification purposes